StudTHUD Basic
Product Description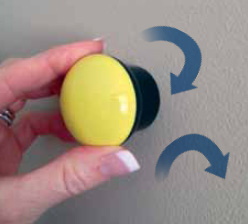 Audible stud finder for plaster, sheetrock, metal studs, tile and more. Super-strong magnets detect stud screws with no false positives.
Features and Benefits:
Easy to Use
Loud THUD plus an extra strong magnetic pull accurately locates metal studs and fasteners
Guaranteed to work on sheetrock, walls, ceilings, tile, plaster, sheet metal and studs
Eliminates false readings with patented design
No Calibration, No Batteries, NO MISTAKES! Guaranteed Rugged Impact Construction. Patent pending magnetic design.
Available Photos
Downloads