Spirit Saver
Product Description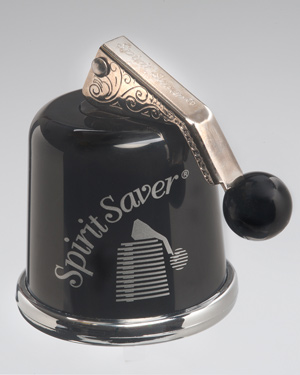 Spirit Saver is the perfect solution for sealing hard-to-cap bottles and preserving freshness.
Try one yourself, or make it a fabulous wedding, anniversary, or New Years gift! A great wine is worth a great seal. Make Spirit Saver a permanent part of your wine collection.
Features and Benefits:
Reseals most corked, regular, and wide neck glass bottles
Can be stored horizontally
Preserves freshness, locks in carbonation
More effective than using a cork
Great for oils, too
Dishwasher safe
Product Descriptions:
Available in black or white
Stainless steel and Abs plastic construction
Available in color retail hang-tag or bulk packaging
Great product for retail, catalog, internet, direct TV, or as a premium
Private label opportunities
For private label or distribution opportunities with your logo, contact us at sales@diamondresource.net or (603) 935-9691.
The Spirit Saver is available for consumer purchase at Starcrest Products.
Available Photos
Downloads